Village Hall News:
AGM
On Saturday 26th February the Village Hall held its Annual General Meeting in the Main Hall. This was well attended by the 7 committee members and 18 members of the public.  After the business of the meeting there was time to socialise and enjoy refreshments.  Full details of the minutes and the Annual report is available from the website: www.houghtonvillagehall.org.uk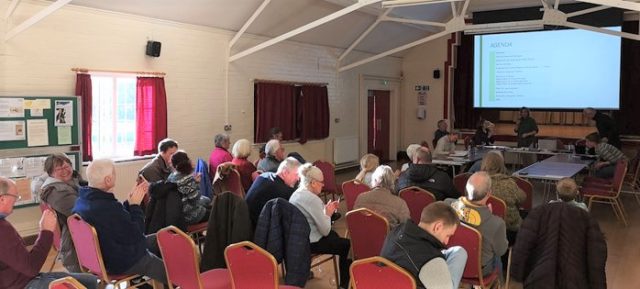 The following officers (all trustees) were proposed and seconded:
Chair: Deb Tull,
Vice Chair: Barbara Scase
Treasurer: David Price
Minutes Secretary: Sue Lock
Maintenance: Indoor; David Pughe.  Outdoor; Bill Egan
Bookings: Regular bookings Charlotte Pughe, Individual bookings Juliet Bailey
Publicity: Andy Farren.
Co-opted Trustee: Ian Hill
We now have the following Community Reps:
Bowls Club: Bill Egan. Trustee
Women's Institute: Ingrid Cochrane. Trustee
St Catharine's Church: Revd. Steve Ransley. Trustee
Duck's Friends: Vacant though Barbara Scase to represent for now
Business representative: Claudine McLaren
Cinema: Clodagh Phelan
Houghton Field Association: Nicola Hobbs 
Introducing Pop-Ins
We are creating a list of occasional helpers called the Village Hall Pop-Ins; these will be people who could help with maintenance on an ad-hoc basis.   To get this started we holding three "pop-in maintenance mornings" for a hall Spring Clean.  These will be from 9am on Wednesday 27th Friday 29th and Saturday 30th April.  If you can spare a little time that week it will be a productive but fun time with free Coffee and maybe even a biscuit!
If you would like to join us for this or become a "Pop-in", please pop Deb Tull a message on debtull22@outlook.com.